Welcome to
Oneness
(enhet in Swedish)
Academic Art of Riding – Yoga – Historical Fencing
We share this with all who is curious about it,
and please, if you have any questions
you are most welcome to contact us!
These words are close to our hearts
Joy – Humbleness – Feel – Dreams – Respect – Nature – Love – Individuality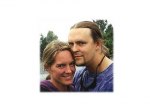 Presentation
"We" are Birgitta Järnåker and Johnny Remmerdal. We live in Sweden where we both are born. We lived in Denmark 2003-2007 at the School of Academic Art of Ridning, near Copenhagen on the island called Sjaelland. We moved there to be near Birgittas teacher Bent Branderup,learn more of the academic art of riding, to live in beautiful surroundings, be near friends of similar philosophy and have a good time. We then moved back to Sweden in 2007 and are now living about 100km southwest of Stockholm.
We give courses/workshops in the Academic Art of Riding, Taichi/Qigong, Ashtanga Yoga. Johnny also is dabbling with fencing and works a bit with massage.